Sprint Car home / The cars / Fallen heroes
---
Fallen Heroes of Sprint Car Racing
Part of the excitement of sprint car racing is the danger. Clip another car's wheels, or enter a corner too hard, and you may find yourself upside down in short order. More often than not, the driver climbs out of the wreck unaided, and returns the next week or later that same night.
It wasn't always this way. Sprint cars used to routinely maim and kill their drivers. Modern safety devices such as full face helmets, roll bars, multi-point harnesses, fire suits, and fuel cells have made most routine accidents survivable. Major advances in medicine and rescue techniques have saved many who would not have survived similar injuries in the past.
But sometimes the worst happens, and no amount of safety equipment or medical technology can spare the driver. Or even more tragically, the driver survives, but is no longer able to drive, or even to care for himself.
This page is a tribute to the men and women whose lives were claimed or changed by the sport they loved. I regret that I don't have more time and space to post the many tributes that have been sent to me, but write me if you wish to contribute. I hope to have more on display soon.
Helping the survivors
Some of the survivors require constant medical care, notably Brad Doty and Page Jones. Donations to their aid funds will be appreciated, not just by the families, but by all of the racing community. Please give generously if you can.
Gone but not forgotten
Jud Larson was a hard-drinking, hard-driving racer, a colorful character from the days when few drivers survived to retire, and roll cages were for sissies. Larson and Don Branson, a more sober sort, put on a legendary battle for the USAC sprint car championship in 1964, which Branson ultimately won. Both were killed, in separate accidents, soon thereafter: Branson at Ascot Park (Gardena, CA) in a November, 1966 crash which also claimed Dick Atkins; Jud Larson at Reading, PA in a 1966 crash that claimed Red Riegel as well.
Jan Opperman was one of the original "outlaws", a "hippie" with a heavy right foot, whose duels with Kenny Weld were the stuff of legend. Severe head injuries suffered in a 1981 crash changed his life forever. He passed on in September 1997.
Gary Patterson was one of the original Outlaws, travelling from track to track before it was fashionable. As a true independent, he answered only to himself. He raced what he wanted and where he wanted, seeking the biggest challenges or the biggest purse. But, no matter where he was found, he lived and raced only by his choices. No promoter, no race car owner, and no sanctioning group had a leash on "GP".

He was among the most well known sprint car drivers in the world, revered in some quarters, considered in more controversial terms in others. Nonetheless, he was universally recognized and respected for his driving talent at every track from Knoxville to Adelaide. Regardless of his politics, he stood for hard, wheel-to-wheel, give-no-quarter, competitive racing.

"GP", "The Preacher", was one of Northern California's favorite sons. And even though he ran on everything from mile ovals to bullrings, the scenic 1/2 mile Calistoga Speedway was one of his favorites (he still holds the one lap track record for non-winged sprint cars there). He raced Calistoga by choice. Even the 1983 accident that ended his life was the result of his own choice - to take his chances with the wall rather than take out another driver along the way. He lived by his own decisions, he raced by his own decisions, and was never afraid to face the consequences. He respected other people's choices. He expected no less than the same respect for his own.

(Contributed by Steve Lafond)

The death of Dave Bradway, Jr. shocked the sprint car commumity in California and beyond. Bradway died from injuries suffered in a tragic sprint car crash during the Super Dirt Cup at Skagit Speedway in Washington State on June 21, 1987. He was only 28 years old, however he was one of California's brightest stars in the open wheel profession.

David, a second generation driver, began his racing career in 1976 at Ernie Pursell Speedway in Grass Valley. In his initial season, he won a pair of main events and finished second in the street stock division, earning the track's "rookie of the year" honors. Two years later, he ventured into the open wheel ranks by way of the modifieds. By 1980, he had already established himself as a premier open wheel driver. In 1982, David won his first NARC main event at Petaluma Speedway. He finished the year with three wins and a third place finish in the final points standings. In 1984, Bradway's steady performances earned him the track championship at Baylands Raceway Park in Fremont. His list of credentials continued to grow the following season, winning five NARC feature events and an eventual third place finish in the championship point standings, despite running a limited schedule. In addition, he finished an impressive eighth in the prestigious Knoxville Nationals. 1986 produced four more NARC feature event wins for Bradway, including three at the high speed 1/2 mile Calistoga Speedway. "Junior" established himself as a top finisher on the World of Outlaws circuit, winning the Jayhawk Nationals in Kansas City. Bradway's 1987 campaign in the Clyde Lamar owned machine promised more of the same. He kicked off the year winning the preliminary World of Outlaws Mini Gold Cup feature at Chico's Silver Dollar Speedway in April. He also won his 13th career NARC feature at the season opener at Calistoga and became only the second member of the exclusive "100 Mile Per Hour Club" at the fast 1/2 mile.

In his 11 year career, Bradway laid a solid foundation to become a sprint car legend, a legend in the same category as two of his childhood open wheel heroes, Jimmy Gordon and Gary Patterson. Unfortunately, all three died doing what they loved to do best, racing and winning. Dave Bradway, Jr. was definitely a winner.

(Contributed by Steve Lafond)

The legendary hills of Winchester (Indiana) Speedway have claimed many a sprint car driver. Among the more recent victims was Robbie Stanley, then-reigning USAC sprint car champ with a brilliant career ahead of him, whose fatal crash in May 1994 stunned the sprint car community.
The high banks of Salem (Indiana) Speedway have a similarly deadly reputation. Rich Vogler, many-time USAC sprint and midget champ, met an untimely end there in July of 1990.
Kara Hendrick, while not a sprint car driver, was a rising star of the USAC Western States midget series, and as quick and tenacious as any of her rivals. In 1991 (?) she hit the wall at Cajon Speedway in El Cajon, CA, while racing for the lead, and did not survive her injuries. I believe she was 19 years old at the time. I still miss you, Kara!
Danny Young died as the result of a flip at Knoxville (IA) Raceway on July 19, 1995. Young was only the second fatality in the 17-year history of the World of Outlaws tour. Geoff Cook has contributed this eulogy to Danny.
Retired due to injuries
These drivers are fortunate to have survived, and for one reason or another have given up the sport. We should be thankful they are still with us.
Brad Doty's crash at Eldora Speedway (Rossburg, OH) several years ago made him a paraplegic, but that doesn't keep him from circulating in the sprint car community. You can hear his color commentary on TNN's coverage of the World of Outlaws series.
Lately racing hasn't been too good to Doug Wolfgang. Doug started racing sprint cars at Knoxville, Iowa in 1975, and quickly became one of the drivers to beat. Soon afterward, he took his show on the road. He won 5 Knoxville Nationals titles and became the winningest driver in Knoxville history. In his prime, "Wolfie" could give the best of the Outlaws a run for their money, and was considered in the same class as Steve Kinser and Sammy Swindell: the best of the best. He never won an Outlaw title, though, because he was always pursuing his own agenda as a racer.

Disaster struck for the first time in April 1992, at a World of Outlaws race on pavement in Kansas City. Wolfgang suffered severe burns and a broken neck (among other injuries) in a crash and fire. When he had recovered from his injuries in 1994, he returned to racing; but soon afterward Wolfgang sued WoO, the promoter, and the rescue team for negligence in the crash, and won his case in 1995.

The suit turned many in the sport against Doug, but that didn't stop him from going back to racing. Soon Doug was winning races again in 360 sprints at Knoxville and elsewhere. It looked like the old "Wolfie" was back! He took the 1996 IMCA title, and was racing 410s again in 1997.

In September of that year, disaster struck again at an All-Stars race at Tri-City Raceway in Illinois. Wolfgang was going for the main event lead in a three-way battle with Dean Jacobs and Gary Wright. The three were side-by-side-by-side when Wolfgang touched wheels with Jacobs in what can only be described as a racing accident. The car spun while airborne, landed on the track facing backwards, and was hit by another car, shearing off the roll cage. Doug's neck was broken again, and he just missed being paralyzed.

While he will make a full recovery from this injury, Doug Wolfgang has decided he will never race again. In light of what racing has done to him, it seems a wise choice.
On the mend
These drivers were injured more recently, and it is uncertain whether or how fully they will recover. My prayers go out to them.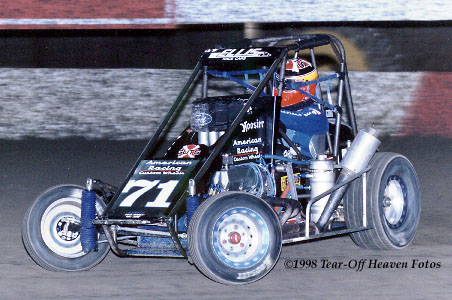 Page Jones in a midget at Bakersfield Speedway, Oildale, CA.
Other racing notables
Not all the Fallen Heroes are race drivers, and not all fall to racing's capricious nature. Here we pay tribute to the others who made dirt track racing great.
Patron of the sport
Though he was not a driver that I know of, the contributions of J. W. Hunt to the sport of sprint car racing -- and dirt track racing in general -- cannot be overstated. A strawberry farmer from Florida by profession, Hunt was perhaps the biggest fan dirt track racing ever had, and he spread his considerable wealth around to practically every driver in the sport. The familiar strawberry logo appears to this day on hundreds of race cars and drivers' helmets across the US.
You never knew when or where Hunt would appear, but when he did he would always spice up the racing by offering a little extra to sweeten the purse. I remember one particular night at Silver Dollar Speedway, when the CRA non-winged tour was in town for a Gold Cup support race. Lealand McSpadden had set quick time, but flipped in his heat race, ringing his bell and severely damaging the car. J. W. stepped up to the infield reporter's microphone and offered to add $1000 to the winner's purse if McSpadden could come back through the B main and win the main event! The offer met with roars of approal from the crowd. Looking a little shaky in a car that wasn't quite right, Lealand proceeded to run away with the B. A few minutes later, with the car now set up for the always-tacky Chico track, he won the main event to a standing ovation, and a beaming Hunt was there to greet McSpadden on the victory stand!
Hunt passed away in January of 1994 after a long and full life. But I'm sure he smiles down on America's dirt tracks every weekend.
Help me remember the fallen heroes
I'm a relative newcomer to the sport, and don't have a lot of history to draw on. And like most people, my memory is imperfect. Any errors in this page are mine alone. I apologize if these errors offend anyone, and will correct them as soon as I'm made aware of them.
Please help me by sending the names and histories of the departed and injured, or information about driver aid funds, to me at this address. I will add your information to this page at my earliest opportunity.
Credits
Page layout and text copyright © 1994-1998 Chuck Fry. Unless otherwise stated, all photos this page are by Steve Lafond, and are copyright © 1993-1998 Tear-Off Heaven Fotos.
See the full copyright notice for details.
In addition to the contributed biographies credited above, my thanks to the many people who have informed and corrected me. Space does not permit me to name them all, but I appreciate their kind words.
---
Sprint Car home / The cars / Fallen heroes
---
Fallen heroes of sprint car racing / Copyright © 1994-1998 Chuck Fry / webmaster@chucko.com