Welcome to the Chucko zone!
You'll find I'm a serious gearhead, a car fanatic, and I bleed Ford blue! I founded the Fordnatics mailing list. I am a former (and future) member of the Northern California Shelby Club.
I am also a big fan of all kinds of auto racing, but Indy cars and sprint cars are my favorites!
I also play rock and jazz music for fun. I'm currently in two bands, neither of which is gigging at the moment. Watch this space.
Another of my hobbies is photography. For examples, check out my photos of Mike Keneally and Beer For Dolphins, a vacation in the southwestern US, and my Carvin guitar and bass collection.
I'm a software engineer by day. My first choice in languages is Lisp. (Common Lisp rules!) I also do Java and C++ programming when I have to, which unfortunately is most of the time. (C++ sucks!) Currently I work for a contractor at the Intelligent Systems division of NASA Ames Research Center in Moffett Field, California, USA.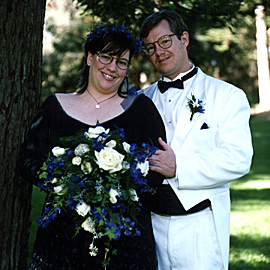 Photo by Bob Edmiston
On October 14, 1995, I married the former Ruth Colby, in a ceremony in San Francisco's Golden Gate Park. We live in Sunnyvale. We used to have three cats, but Norton passed away in 2002, Cici in 2003, and Designer Kitty in 2009. God rest their furry souls. We acquired another cat, Princess, in 2009, and yet another furball named Gray Matter in 2013.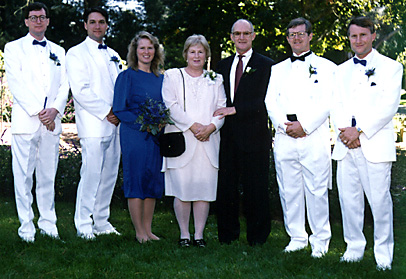 Photo by Bob Edmiston
Here's another scene from the wedding, showing my immediate family. Left to right: brothers Doug and Ken, sister Laura Hambrick, Mom (Dale) and Dad (Frank) Fry, me, and kid brother John.
This page is hosted at sonic.net.
Sorry if this is a bit dated. Drop me a note if you have a suggestion or complaint.
---
Chucko's homepage / Chuck Fry / webmaster@chucko.com