My Carvin collection
---
Shortcuts
The basses: Koa/maple LB75 | All-koa LB75 | Quilted maple top LB76 | B5F | BB76P
The guitars: DC400 | Bolt-T | Holdsworth H2
---
For quite some time, people on the Carvin discussion boards have been after me to post pictures of my Carvin basses and guitars. Well, here they are at last!
This page is still under construction - look for more details and pictures. as the collection grows Click the headlines for more details about individual items.
What's a Carvin? And why should I care?
Carvin is a maker of musical gear based in San Diego, California. The bulk of their products, and in particular all their bass guitars and most of their guitars and electronics, are made in their San Diego factory. Their instruments are very well made from high quality woods. While not a true full custom luthier, Carvin does offer a wide range of options on their production line guitars and basses, and many are built to order. Carvin's amplifiers and other electronics pack a lot of features for a modest price.
Because Carvin only sells direct through mail order, their web site, and a handful of company-owned retail stores in Southern California, they cut out the middleman and can offer their gear at very modest prices. The low prices combined with the quality and features of Carvin products make them an amazing value.
While Carvin's guitars and basses are a good deal at regular prices, I'm a bargain hunter. The retail stores often have advertised sales, marking down in-stock instruments from regular catalog prices. Even when they don't, there are always a few "red-tagged" or specially priced instruments hanging on the wall. Though I don't live in Southern California, I do visit several times a year. I've made a hobby out of visiting the retail stores, finding the best of those specials, and taking them home. Every one of the guitars and basses on these pages was bought for less than Carvin's regular selling price!
---
The bass guitars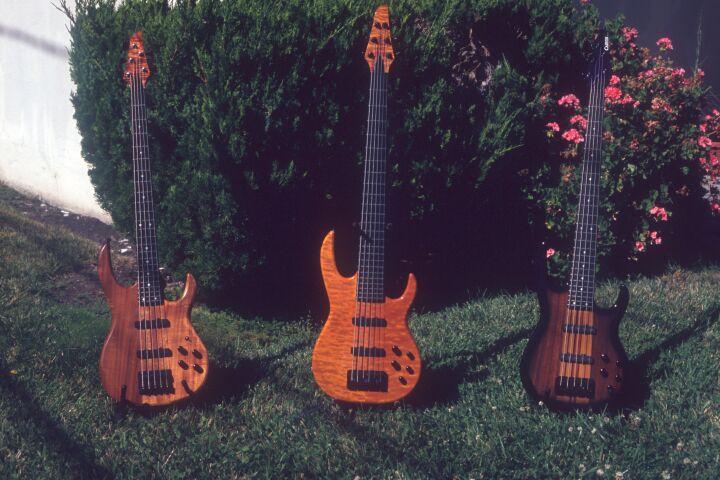 Left to right: Koa LB75, LB76, koa/maple LB75.
My first Carvin bass was an LB75F bought in 1991 - on sale, of course, at the Hollywood store. I never quite came to terms with it; it was my first fretless and my first 5-string bass. The long, pointy 5-in-line headstock made the bass somewhat unwieldy and neck-heavy. And the H11 stacked humbucking pickups Carvin used at the time lacked low end, a cardinal sin on a bass guitar! When I acquired the koa/maple LB75 seen on the right above, I sold the fretless. Unfortunately I have no pictures of the LB75F, sorry.
The new LB75 was a dramatic improvement over the old LB75F in virtually every respect. I thought I could be happy with just one Carvin bass. But I fell in love with the others on this page, and now I can't imagine living without them. Each has its own distinctive character and tone, and each gets its share of playing time. If push came to shove, though, I'd reluctantly part with the all-koa LB75.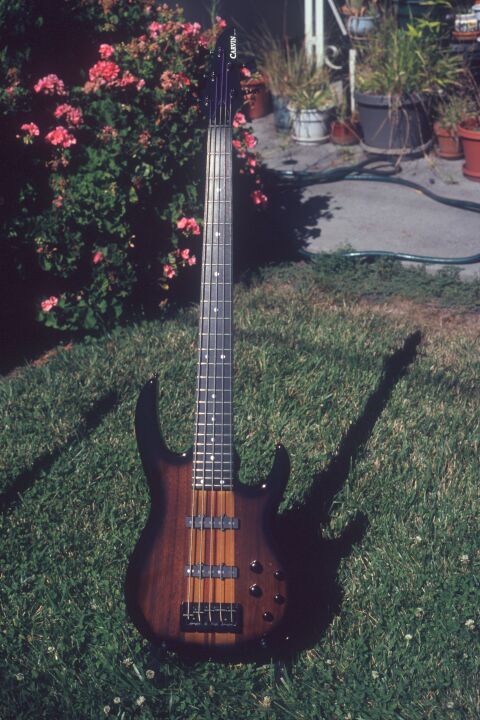 I bought this gem in July 2000 at the Carvin factory store in San Diego. It was the most resonant 5-string hanging on the wall, thanks in part to the wide, 5-piece laminated neck. The fact that it had a bargain price tag didn't hurt either! Originally equipped with J99 pickups, it now has a pair of Sadowsky single-coils. What was already a very solid-sounding bass became positively thunderous!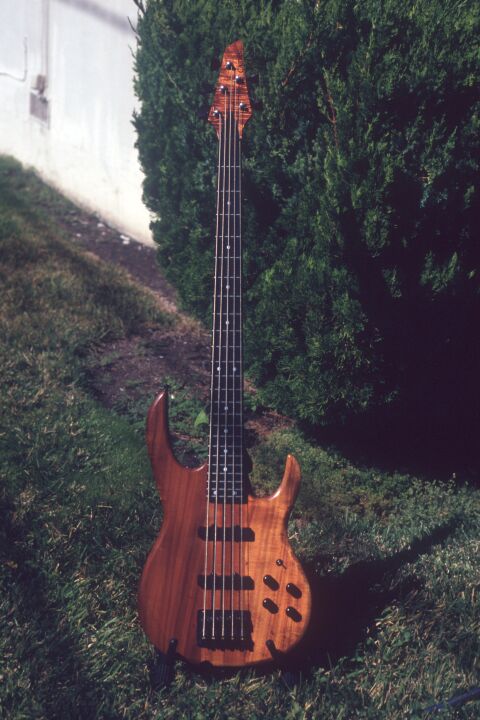 This was an eBay find in March 2002. I believe it to be a 1993 or '94. The pictures don't show some slight scratching and dings in the wood - nor did the eBay photos. This bass was well used, and it has a few minor battle scars. But fortunately none of them affect the playability. This bass is light and well-balanced, and the standard neck makes it more nimble than the koa/maple bass above. The tradeoff is that the low B isn't quite as solid as on the one above. It came with H50 stacked humbuckers. And yes, those are Sperzel locking bass tuners.
This is the "beater" bass in my collection, but it's a fine player in its own right.
Quilted maple top LB76 a.k.a. "Beauty Queen"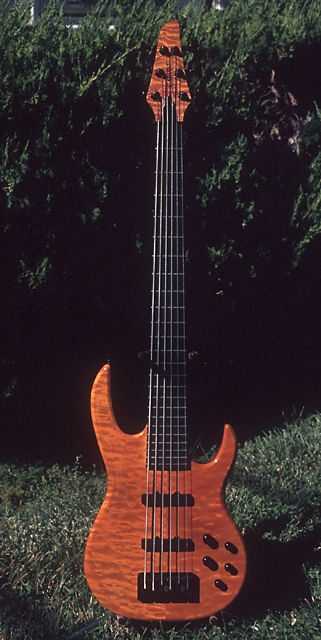 This jewel was picked up at the Covina store on July 3, 2002. Isn't she a beauty? Surprisingly playable for a six-string, too. And now that she's got a pair of Bill Lawrence J-45 pickups, she sounds as good as she looks! Sad to say, I had to sell her in August 2004.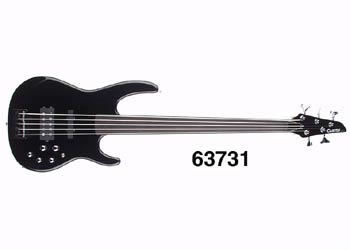 I had to have a fretless bass, and this B5F showed up on the In-Stock page - just in time for an in-stock sale! She's all black, with chrome hardware. The picture above came from Carvin's in-stock page. I'll be posting details about this "toothless wonder" soon.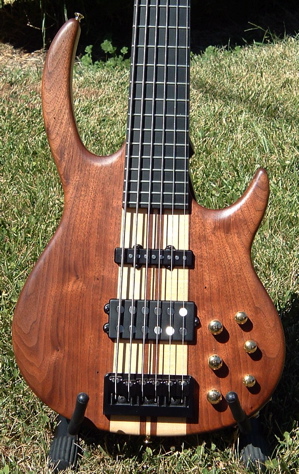 I knew I would eventually have to get a Bunny Brunel signature model, and a P-series bass. Lucky for me, they turned out to be the same instrument! Better balanced and more versatile than the "Beauty Queen", this BB76P has replaced the LB76 in my harem.
---
The guitars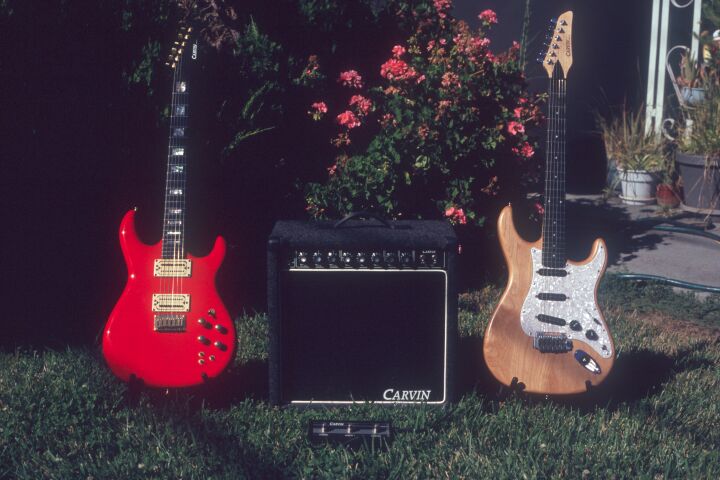 Left to right: DC400, X-60A combo amp, Bolt-T.
One guitar is not enough... but three will do. The two guitars shown here will cover 90% of the classic rock tone spectrum. And when I'm in the mood to shred (which isn't often!), my Holdsworth signature H2 is the tool of choice.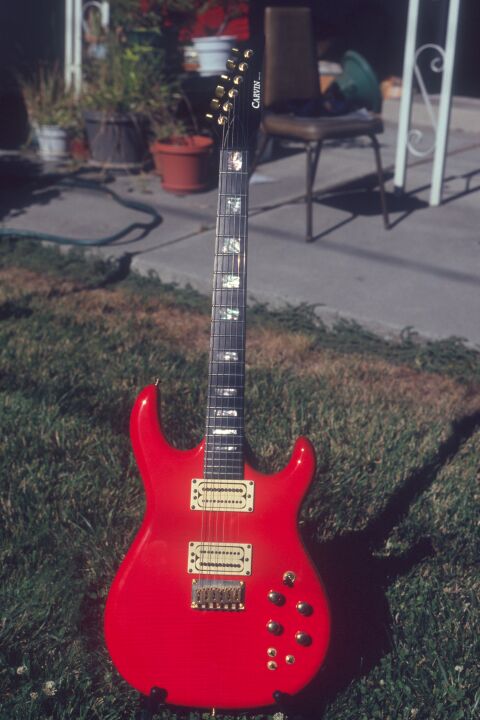 This guitar, another red-tag special, followed me home from the factory store in July 2000. The crimson red finish tends to obscure the flame in the top, but it's there, trust me! Under the flamed maple is a mahogany body and one-piece mahogany neck, giving the C22 humbuckers a mellow but clear and distinct sound.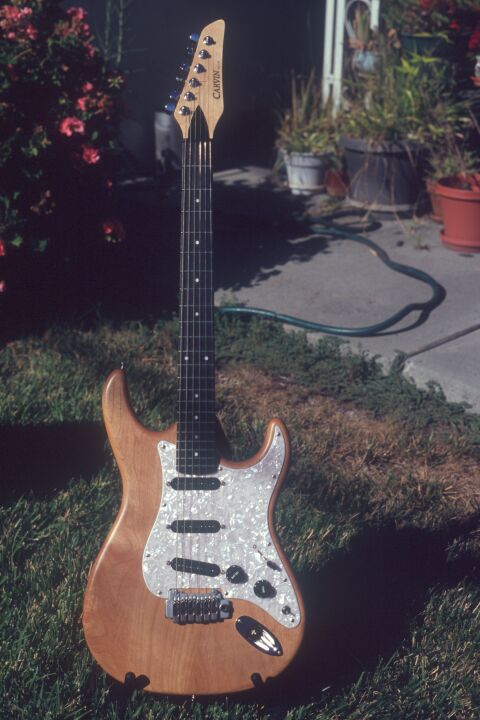 I bought this Bolt in October 2000. At the time I had been looking at Mexican Stratocasters. When I walked into Carvin's Santa Ana store and found this basic US-made Bolt-T was on sale for about the same price as the Mexi-Strats, it was my duty and privilege to Buy American!
---
The amplifiers
The X-60A combo guitar amp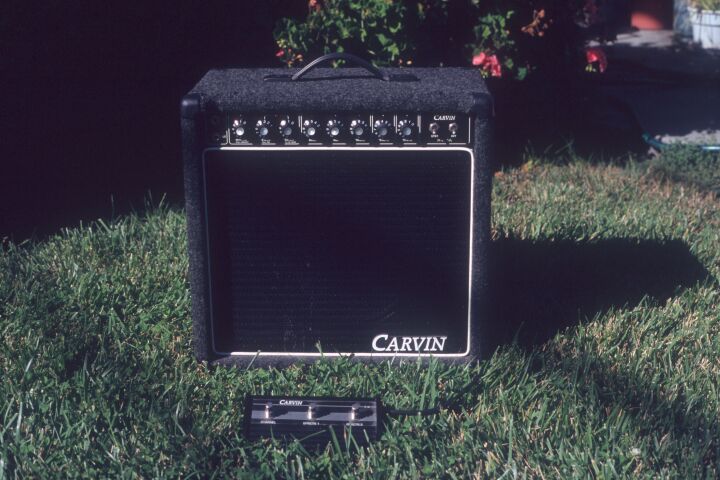 I think this is the only Carvin in my collection for which I paid list price! This workhorse was bought in January 1991. You wouldn't know it from external appearances, but the circuit has been heavily modified. The result is a "stealth" boutique amp that rocks hard!
The PB-15 bass preamp
This was a $99 find at the local used music store in March 2002. Like the X-60A above, it too has been heavily modified. Sorry, no pictures yet.
---
Miscellaneous
XP4 digital multi-effects processor
No pictures of this unit yet either. See the Carvin site. The XP4 has 2 independent stereo effects processors, each of which can be further split into 2 mono channels. It does reverbs, delays, phasers, choruses, rotating speaker simulations, etc. As with most of the gear above, this one was bought on sale! I'm not much of an effects user, so the XP4 is truly overkill for my needs.
---
Pretty cool! So how do I get one of my own?
Click the banner below, or phone:
---
Disclaimers
"Stratocaster", "Strat", "Telecaster", and "Fender" are registered trademarks of Fender Musical Instrument Corp., and are used here for illustrative purposes only.
I am not affiliated in any way with Carvin, except as a happy customer. The opinions stated on these pages are mine alone, and do not necessarily represent the opinions of Carvin... or anyone else for that matter.
---
Shortcuts
The basses: Koa/maple LB75 | All-koa LB75 | Quilted maple top LB76 | B5F | BB76P
The guitars: DC400 | Bolt-T | Holdsworth H2
---
My Carvin collection / http://www.chucko.com/Carvin/index.html / Copyright © 2002-2004 Chuck Fry / All rights reserved.