Bolt-T
---
Shortcuts
The basses: Koa/maple LB75 | All-koa LB75 | Quilted maple top LB76
---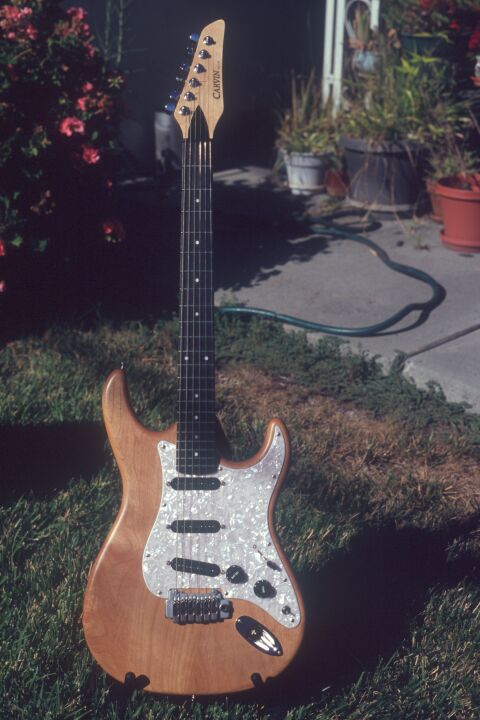 Once I had my DC400, I quickly found myself disgusted with my old Ibanez RS440 Strat clone. The Ibanez had no sustain to speak of, and many of the construction details were lacking. I was not happy with the Dimarzio HS-3 pickups I'd installed in the neck and middle positions, and the bridge humbucker sounded "honky", even when split.
So in late 2000 I found myself looking for a better Strat clone. I had been looking at Mexican Fenders, but was not ready to spend that kind of money for another foreign-made guitar. And at the time, I thought Carvin's Strat clone, the Bolt, was similarly out of reach.
But when I walked into Carvin's Santa Ana store in October 2000 and found all Bolts were on sale for about the same price as the Mexi-Strats, the choice was clear. It was my duty and privilege to Buy American! For $409 plus case I took this baby home.
This particular guitar is about as basic as a tremelo-equipped Bolt can be. The only option is the white pearloid pickguard, which Carvin didn't even bother charging me for! The finish is clear satin. This is about as close to maintenance-free as you can get, and it doesn't show fingerprints (though it will tend to "gloss up" with normal wear).
The two-piece alder body shows a couple of "character marks" in the wood, but nothing you'd notice from more than 3 feet away. There's some interesting figure in the maple neck, nothing spectacular, but charming in its own right.
Pickups and electronics
This Bolt comes with 3 Carvin AP11 single coil pickups with 11 adjustable pole pieces. Carvin claims they're a little fatter sounding than a standard Strat pickup, and I believe them. They do have much of the sound of a classic Strat pickup, but lack some of the high treble "chime" of the real thing. The middle pickup is reverse wound, reverse magnetic polarity for hum cancellation when used in combination with the neck or bridge pickup.
The passive electronics differ slightly from the usual Strat-clone standard. There's a single volume knob and a single master tone knob. A 5-position pickup selector is augmented with a toggle switch for the bridge pickup. The toggle switch adds the bridge pickup to whatever combination the 5-position switch has selected. This makes it possible to get all pickups on at once, or the neck and bridge pickup together. The latter combination makes a passable imitation of a Telecaster.
Playability and tone
First off, let's get two things straight. This is a Strat clone, so it has the usual characteristics of that breed, like a clunky neck joint. But it's also a Carvin, and that means the Bolt-T has certain refinements that set it apart from the rest of the class.
For starters, the fingerboard is ebony, and has 22 medium jumbo frets, compared to the usual 21. The neck profile is traditional Carvin-slim. The satin finish on the back of the neck makes for a very fast neck. Shredders will be very happy. The headstock tilts back, making string trees and the like unnecessary. Tuning stability is further enhanced by the graphite/Teflon nut.
The Gotoh/Wilkinson tremelo is a knife-edge, two-pivot floating design, offering plenty of sustain. Changing strings is a breeze; you just push the ball end of the old string out the holes in the back cover plate, and thread the new string the same way. With enough springs (I use 4), it will return to normal tune quite nicely. But like all floating trems, it can be a pain to get into tune in the first place, as all the tuning adjustments interact.
The Bolt-T seems to demand a higher action than my DC400. I'm not quite sure why. Where the DC400 rewards finesse, the Bolt-T begs to be played hard.
And as you'd expect, it sounds "like" a Strat. Not just like a Strat, but close enough for me, and I imagine for many others. I may substitute Bill Lawrence BL-280/290 pickups down the road, not only for tonal improvement, but also for noise reduction purposes. But even with the stock pickups, it generates a wide variety of near-classic tones, with plenty of "quack" and "spank".
Options
White pearloid pickguard (option code WP)
Clear matte satin finish (CS, no-cost option)
Here's a closer look at this variation on a familiar theme.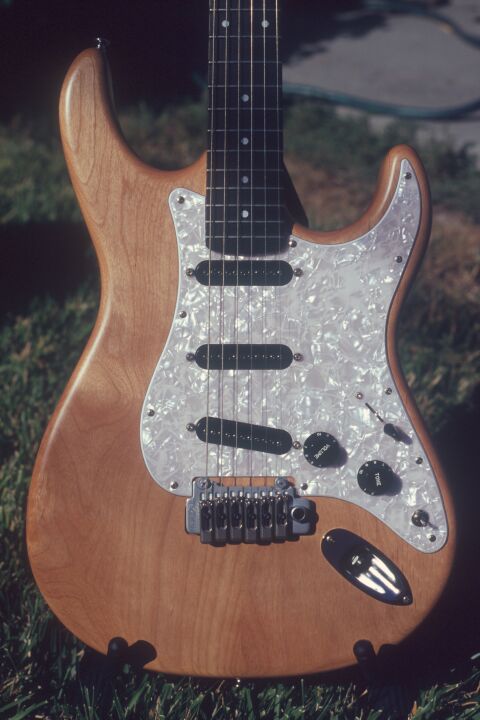 There's plenty of character in "pedestrian" alder wood.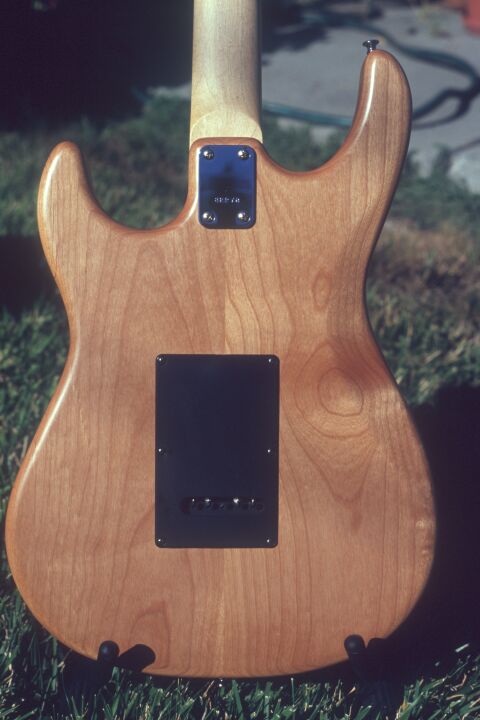 The alder body is surprisingly handsome in this rear view.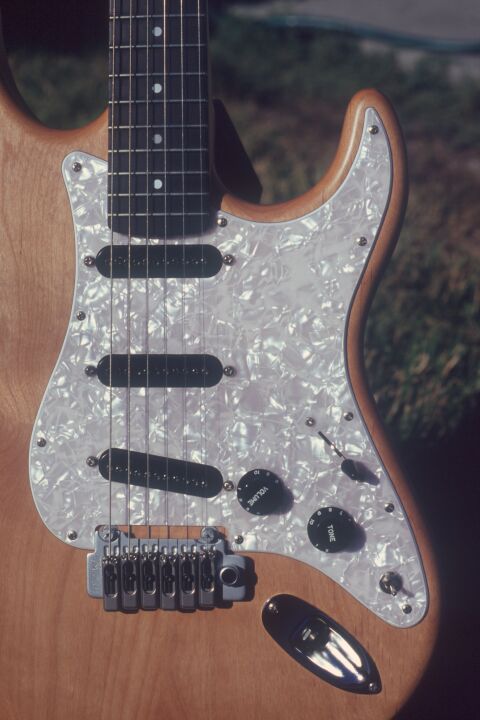 The "mother of toilet seat" pickguard is handsome in its own slightly tacky way.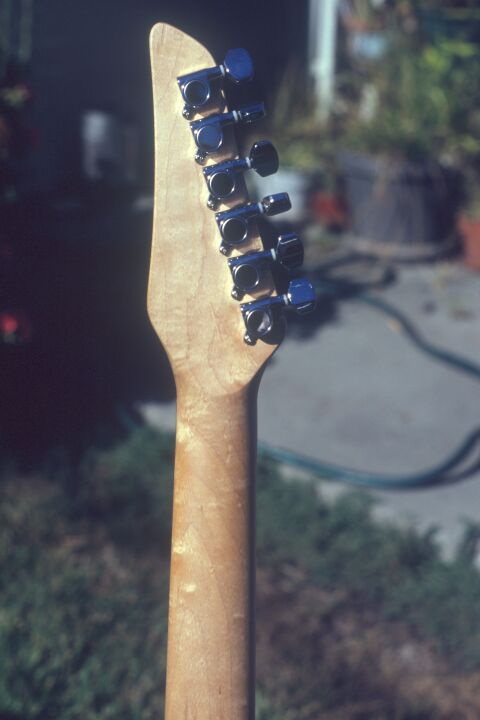 There's a little bit of "birds eye" figure in the neck wood.
---
Disclaimers
"Stratocaster", "Strat", "Telecaster", and "Fender" are registered trademarks of Fender Musical Instrument Corp., and are used here for illustrative purposes only.
I am not affiliated in any way with Carvin, except as a happy customer. The opinions stated on these pages are mine alone, and do not necessarily represent the opinions of Carvin... or anyone else for that matter.
---
Shortcuts
The basses: Koa/maple LB75 | All-koa LB75 | Quilted maple top LB76
---
Bolt-T / http://www.chucko.com/Carvin/Bolt-T.html / Copyright © 2002 Chuck Fry / All rights reserved.