Maple/walnut BB76P
---
Shortcuts
The basses: Koa/maple LB75 | All-koa LB75 | Quilted maple top LB76 | B5F | BB76P
The guitars: DC400 | Bolt-T | Holdsworth H2
---

This wonderful bass was picked up at Carvin's Covina, CA store in September 2003. It was another showroom queen at a bargain price. I knew I was in trouble when the manager threw a quote at me... and my wife confirmed it when I brought it in the door.
This bass appears to be a 2003 model, but it could have been made earlier.
The 5-piece neck is primarily hard rock maple with walnut stringers. The body wings are eastern U.S. walnut. The 24-fret ebony fingerboard has no inlays other than marker dots on the left (up) edge of the board, where only the player can see them. And the gold hardware adds a touch of elegance.
Pickups and electronics
Carvin's standard J99 single-coil neck pickup was barely adequate in this bass. Not long after the BB followed me home, I replaced the J99 with a Bill Lawrence J-45L. The J-45 is a significant improvement over the J99 in almost every respect (a slight susceptibility to electrostatic buzz being the only exception).
The bridge pickup is Carvin's HB6 humbucker with a coil-splitter switch. When split, the single coil is reverse wound, reverse magnetic polarity to cancel hum with the neck pickup; it has a little more growl than a J-style pickup. With both coils on, it really snarls!
The electronics are Carvin's current 18V "P Series" active/passive type. Piezo pickups in the bridge detect a more "acoustic" kind of tone, which can be blended with the magnetic pickups. In the event of battery failure, simply pull up on the volume knob and you have a passive bass with just the magnetic pickups.
Playability and tone
Like all Carvins, the neck is relatively thin front-to-back, and narrow for a 6-string bass. The long upper horn of the Bunny Brunel signature series basses helps reduce, but not eliminate, neck dive. It is quite a bit better balanced than the LB76 was, but it is also quite a bit heavier!
With all that mass, the low B is very solid. I have found only minor dead spots on the neck.
The P Series electronics offer a huge variety of tones. Even with the dead strings that were on it in the showroom it sounded great. And with a fresh set of Carvin's private-label nickel roundwounds, it sounds awesome!
Options on this bass
5-piece maple/walnut neck (option code 5MW)
Walnut body wings (WAL)
Walnut headstock overlay (WPH)
Tung oil finish (TF)
Matching quilted maple headstock overlay (QPH)
No inlays on fretboard (NIN)
Gold plated hardware (G)
Modifications
Bill Lawrence J-45L neck pickup
More views of this masterpiece: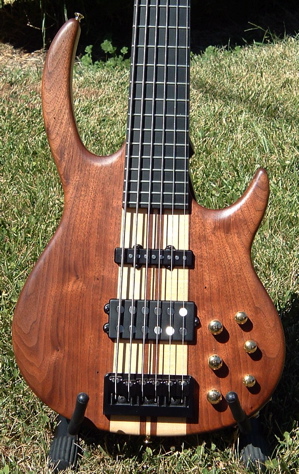 Gold hardware sets off the deep walnut grain.
No surprises in the view of the back, just more walnut!
---
Shortcuts
The basses: Koa/maple LB75 | All-koa LB75 | Quilted maple top LB76 | B5F | BB76P
The guitars: DC400 | Bolt-T | Holdsworth H2
---
Maple/walnut BB76P / http://www.chucko.com/Carvin/BB76P.html / Copyright © 2004 Chuck Fry / All rights reserved.